Sub-association for intensive livestock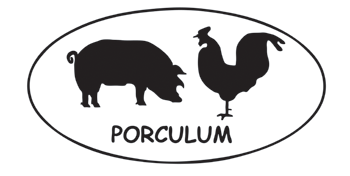 Members: ± 160

Since 1992, students are brought in touch with the intensive livestock component of the agricultural sector by Porculum. Not only the main branches, like pig and poultry, but aslo the less common, like veal-calves and minks, as well.  The versatility of the sector, combined with its changes, challenges and issues, give way to the possibilities of discussion and various perspectives for the interested student.
Contact with the sector is made by excursions, of which one is planned every period. These excursions do not only consist of visiting livestock farms, but of secondary companies as well. Examples of these companies are Agrifirm, Vencomatic, Boehringer Ingelheim, PIC-NL and Westfort. Besides these excursions, we organize a "foreign excursion week"(buitex) and "internal excursion weekend"(binex) every year. During the "binex" and "buitex" the board organizes a programme in which various companies are visited.
Besides these educative activities, we offer some social activities as well. Two examples of this are the unlimited spareribs eating evening and the VATS (pig on a spit), the latter in which we work together with another sub-association.
We hope to see you during our activities!
Greetings,
The Porculum board 
Wiebe Kemp                    Contact person
Noémie Poldervaart       Secretary
Susan Mollink                  Treasurer 
Sven Beekman
Joas van der Linden 
Anne de Bruijn 
Roel Verheijen
Email: This email address is being protected from spambots. You need JavaScript enabled to view it. 
Sponsors: