Sub-association for horses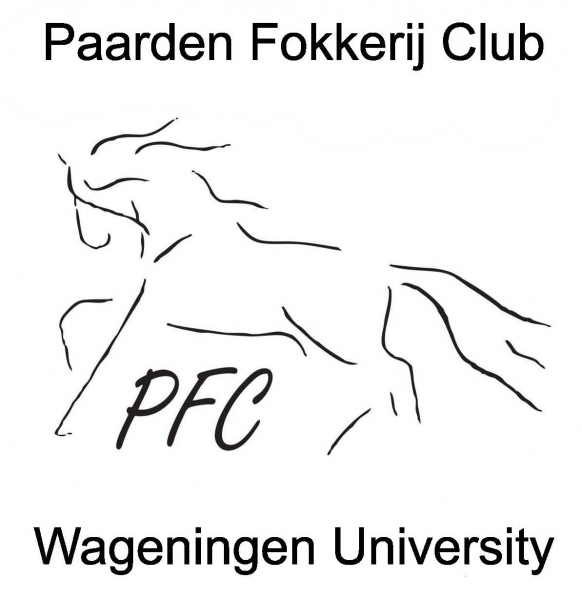 Number of members: +- 135
The horses breeding association, PFC, is a sub association from Study association ''De Veetelers'' with a special focus on horses. Although the name suggests that we are mainly engaged in breeding, the PFC covers all aspects of the horse sector.
Our members are mostly Animal Sciences students. We as PFC aim to give our students practical experience in addition to the knowledge that is acquired in lectures. We do this by organizing excursions throughout the year to various horse events, clinics, stud farms and other horse businesses. In addition, there is a beginner's class organized annually for the beginners and a clinic or a lesson for the advanced riders. The PFC does not only organize interesting and fun activities, it emphasizes learning. Also, every year, an informative theme or discussion evening is organized, in which a 'horse' topic is discussed. All this is made possible by the financial support received from our sponsors Pavo, Efo and Bio-Ron.
In academic year 2018-2019 we had several activities, including an introductory lesson TREC for the advanced members, a beginners class for members who wanted to get acquainted with the equestrian sport, and a symposium. During the day excursion, "De Paardenkamp" and holistic veterinarian "Den Hoek" have been visited. The advanced riders made a nice forest ride on the Fjord horses of "Stalhouderij het Fjordenpaard" in Breda. At the end of May, the buitex has taken place to the Ardenns and Luxemburg. 
If you want to add something extra to your studies in Wageningen and expand your knowledge in the field of horse farming, then become a member of the PFC!
Regards,
On behalf of the PFC board,
Laurien Brichau
Lianne van Eerden
Kirsten Elzinga​ (contactpersoon)
Dorette Kroeze
Dionne Ruijter
Paarden Fokkerij Club | Horse Breeding Association
Wageningen University
Email: This email address is being protected from spambots. You need JavaScript enabled to view it.
Main sponsor:

Sponsors:

Is your company interested in sponsoring the PFC? Please send an e-mail to: This email address is being protected from spambots. You need JavaScript enabled to view it.
Follow us now on Facebook and Instagram (@pfcdeveetelers), to be up to date about our activities!